Commercial banks have stopped issuing LCs ..! Big shortage of goods to come ..! An economic crisis is at the gates of Sri Lanka ..!
-Former finance minister warns of impending disaster
(Lanka-e-News-July 10, 2021, 3:15 p.m.) It is reported that most major banks in Sri Lanka have stopped issuing letters of credit for importing goods. According to reports, although commercial banks accept applications for letters of credit, their issuance is continually postponed.
Country towards an economic abyss …
It should be noted that the failure to issue letters of credit by commercial banks for the import of raw materials or spare parts for local industries and export industries is driving the country into an economic abyss.
From mid-2020, the government continued to restrict imports and foreign exchange, a common feature of these policies.
Serious shortage of goods in the next three months.
Unless a permanent solution is found, the country will face a severe shortage of goods over the next three months, leading to the collapse of manufacturing plants and the inability to ship exports on time. which will further affect the country's already declining foreign exchange reserves.
Put simply, it's surprising that some commercial banks even refuse to send just a wire transfer message to import $ 10,000 worth of spare parts for a factory.
At the same time, the refusal of some banks to send foreign currency to their children who study abroad has raised concern among parents.
Commercial banks do not have foreign exchange reserves …
The Minister of Finance of Saubhagye Rajya of Gotabaya Rajapaksa (prosperous government) started his work by issuing the notification in the Official Gazette No. 2184/21 on July 16, 2020 ordering the opening of letters of credit only within the credit limits of 90 days and 180 days for the import of nearly 175 items. The importation of a wide range of goods was also prohibited through Official Gazette notifications signed by the Minister of Finance.
While the above ordinance permitted the opening of letters of credit on the basis of letters of usage, it has now been revoked and banks have recently been empowered again to open letters of credit on demand. However, banks still refuse to open letters of credit to their customers due to the lack of foreign exchange reserves, while very few customers are able to open a small number of letters of credit payable within 90, Next 120 or 180 days.
The central bank is stupid.
The Central Bank of Sri Lanka also follows a policy of silence in this regard.
To solve this problem, the Central Bank of Sri Lanka has allowed commercial banks and other financial institutions to obtain foreign loans.
When the government or the Central Bank of Sri Lanka is unable to obtain foreign exchange, it will take time for commercial banks to decide whether they can do so.
It is also a known fact that in the last 18 months the country has banned the importation of wall and floor tiles, bathroom sanitary ware, tires, motor vehicles, fertilizers and agrochemicals and gave his business friends the opportunity to become millionaires. .
Attempts have been made to save foreign exchange by allowing the importation of sugar, palm oil and spare parts for motor vehicles, but to no avail.
When this country was handed over to President Gotabaya Rajapaksa at the end of our term in 2019, government revenue was LKR 1895 billion.
One third of the national income was given to business friends.
It should be pointed out that the main reason for this crisis is that, as soon as this government came to power, it granted tax breaks amounting to LKR 600 billion (about a third of total revenue) for a simple gain. politics and to please their business. associates.
Inexperienced civil servants and ministers have been appointed to manage the gradually developing economic poles. Crown corporations and statutory boards are now all taking huge losses.
Letters of credit issued by our banks have been accepted by any bank in the world based on the confidence placed in our country by international financial institutions due to the high ratings given to the country and its banking system.
International trust in government has been lost …
Shortly after the current government came to power, this breach of trust reduced the international ratings of the country and its banking system to "CCC".
It is reported that there are cases where international banks refuse to accept letters of credit issued by banks in our country on the grounds that this government is unable to repay its foreign loans thus putting Sri's business community Lanka in danger.
All of them are man-made crises.
All of these crises were created by the current government in the last 18 months.
Six months before our government of good governance, Parliament was dissolved to introduce a new economic vision for the country.
It has all become a dream today.
When the country was handed over to Gotabaya Rajapaksa and the new government, foreign exchange reserves stood at $ 7.6 billion, but fell to $ 4.1 billion over the next 18 months.
Foreign exchange reserves are maintained in this sense as a deposit to import crude oil, petroleum, etc., which are essential for medicines, foodstuffs and energy needed by the people of an oriented country. import Export.
But due to the use of these reserves to settle long-term foreign loans obtained under your governments long ago and short-term international sovereign bonds obtained during your last reign, our country has now fallen to the level of the Venezuela in Latin America. as well as Greece in Europe.
When the loan is repaid, the reserve will be reduced to $ 1 billion.
The international sovereign bond to be settled this month was issued in 2011, when Mahinda Rajapaksa was in power.
$ 1 billion issued at 5.875% on July 25, 2011 was due July 07, 2021.
If these are settled using our foreign exchange reserves, the balance would be reduced to $ 3 billion.
It is also reported that the Ceylon Petroleum Corporation has $ 1.3 billion in unpaid invoices to pay for oil imports.
As of Friday, many commercial bank loan applicants were asked to deposit at least 50% of the value of the foreign currency letter of credit with the bank in order to open their letters of credit.
Here is the destruction in the next three months …
Today, the economic crisis is at the gates of Sri Lanka.
Due to the continued non-opening of letters of credit by commercial banks, there will be a shortage of essentials such as food, medicine and spare parts for the next three months, creating a depression in the country.
If such a situation arises in the country, this government cannot escape this responsibility.
The lack of chemical fertilizers and agrochemicals will reduce yields, create food shortages in the country and push up the prices of limited products in the market.
We're not late yet.
There are many economic solutions that can be implemented to pull the country out of the economic crisis.
We urge the government to seek national and international guidance to steer the country's economy in the right direction.
On behalf of all Sri Lankans, I further urge the government not to hide the economic crisis from the people and stop empty development programs and work to win this economic war as a team without trusting a few. people. "
Mangala Samaraweera
Former Minister of Finance
—————————
by (2021-07-10 09:53:18)
We cannot continue LeN without your kind donation.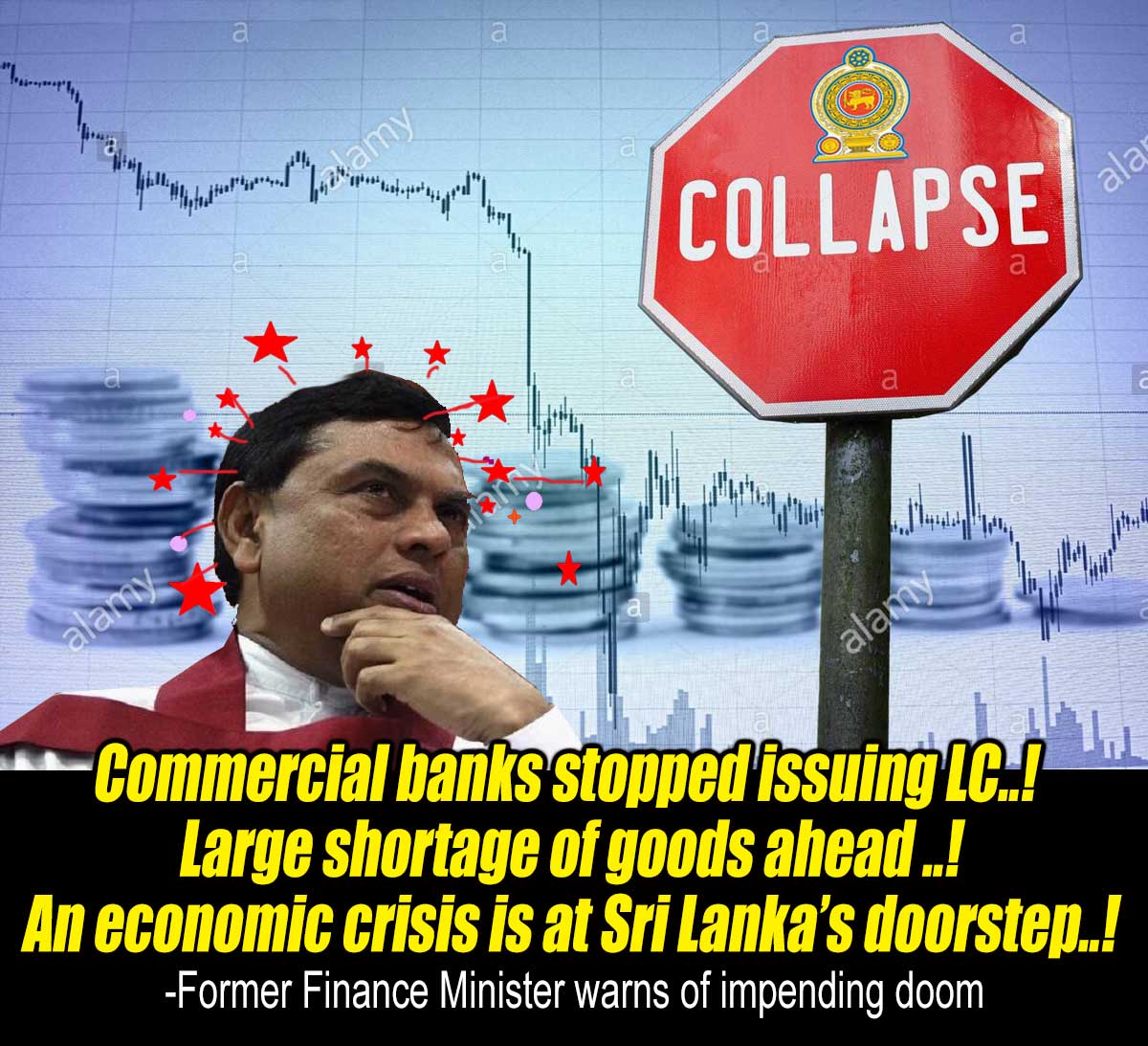 Leave a reply